TED BAKER FAVOURITES & 20% OFF
I just couldn't keep this information from you, since I've become a great fan of Ted Baker myself. I was at the opening of their new store in the Leidsestraat and ever since, I am sold on their collections. So let me tell you all about my favorite pieces and of course… the 20% off deal!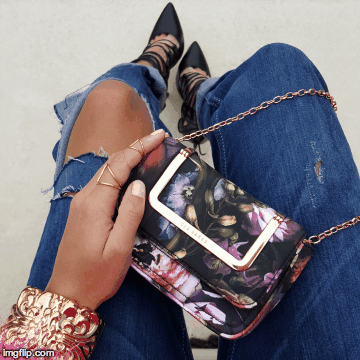 Ted Baker opened a store in the Leidsestraat in Amsterdam during Vogue Fashion Night Out on September, 10th. I was there to celebrate with them and felt honored to be one of the firsts to see the wonderfully decorated store and the feminine chique collections. You may also have seen me wearing one of their bags during London Fashion Week and ever since my love for Ted Baker has only been growing. In fact, I felt like I needed some more Ted Baker bags in my life. So in this post I stashed all of my favorite Ted Baker bags and tell you why I've fallen for these pieces.
Let's start off by saying that Ted Baker is known for it's sustainable clean but chique designs, which is totally in line with my taste. Furthermore Ted Baker bags feature some funny details so I've noticed. For example, I found this small cute box bag with rose gold hardware which can be worn in several ways. The black and light pink bag are identical and have a mirror inlay just underneath the closure. I just couldn't resist to get both of them, cause I think that they are so easy to style as either a clutch or a cross body bag. Besides, they have the perfect size. I've been having the beige purse for a while now and these new bags match "my collection" perfectly, don't you think? All of these items feature a contrasting lining in either a bright color or subtle floral print. I love it!
Ok. Enough about my obsession for Ted Baker bags, cause I am not writing all this to shake up envy. Instead, I wanted to share some good news with you guys! Cause on November, 12 and November, 13 you will all get 20% off on Ted Baker items. You don't need a code to get the 20% discount and can shop from the complete collection in both the store and the Ted Baker online shop. I think I'll definitely have a look again…
So tell me, do you feel that obsession fever taking over as well? Let me know if you've shopped something cool!
In these photos: Ted Baker floral bag / Ted Baker pink bag / Ted Baker black bag / Ted Baker beige clutch (similar)
Photos by me