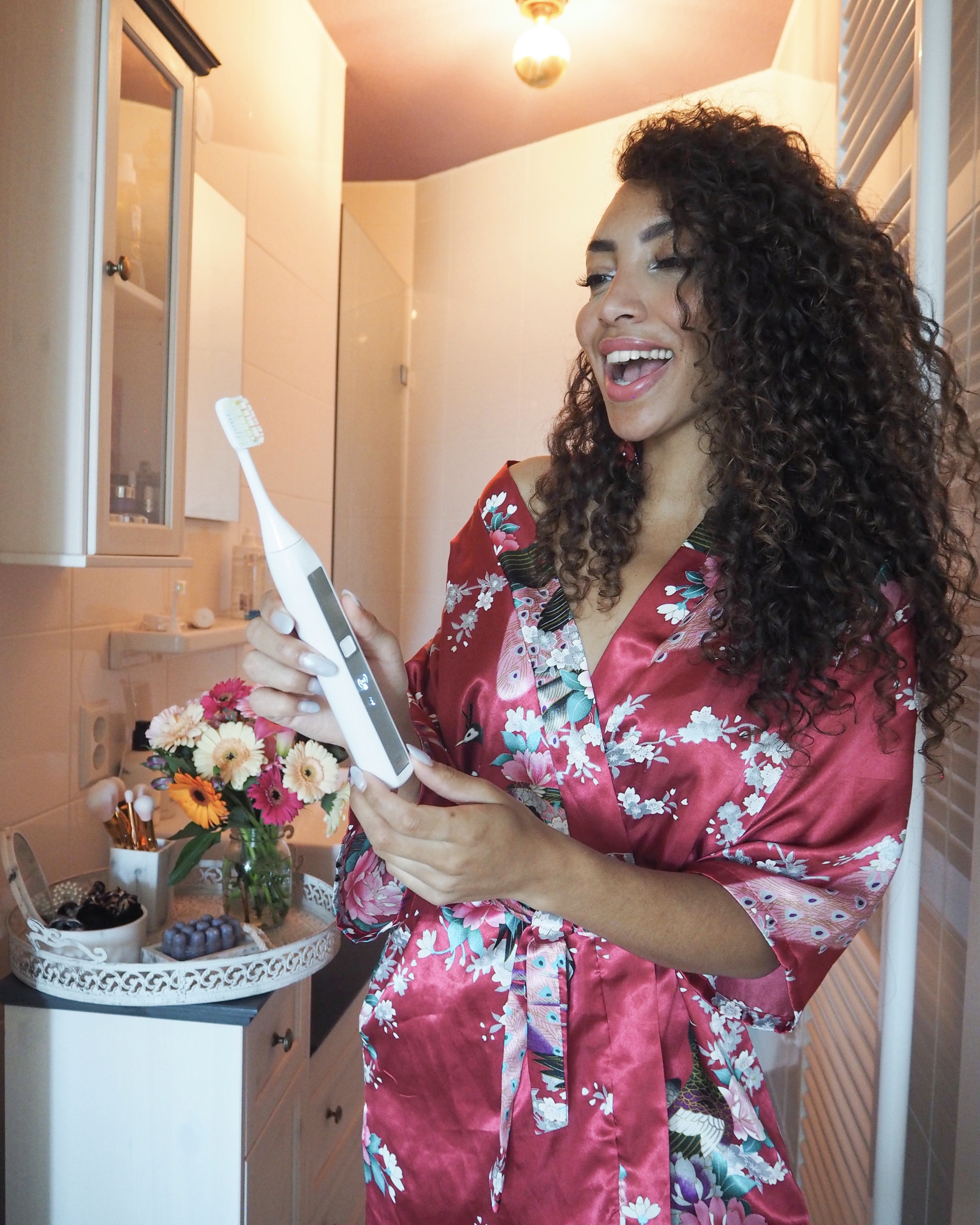 "A smile is the prettiest thing you can wear" they say… Sounds interesting to a fashion blogger! Cause to me, a co-ord would also be one of the prettiest things to wear. It depends on the type of co-ord and the fit though… So how is that with a smile then? Are there even "ugly smiles"? And how do we make our smiles as pretty as possible? A lot can be said about technology anno 2020, but we must agree that more and more opportunities arise. One might think of fillers, botox and teeth whitening. But there's so much more to a pretty smile… and personally, I am very happy that a naturally pretty smile is not even that hard to obtain. In this post I am telling you how I got there and I will also give you a full review on the Silk'n ToothWave, a revolutionary electric toothbrush.
B is for Braces
It's in primary school and high school where most children get their (first) braces. I am writing "first", because loads of people will go back to their orthodontist years later when their teeth start moving again. I had my braces when I was 28, late bloomer. Luckily, I have a splint so the chances that my teeth start moving before my 60th are low. And how happy am I with my straight teeth! I thought my crooked teeth weren't too bad, but when I look at the difference I am wowed.
B is for Brushing
But… with just straight teeth one cannot be happy yet. We want them to be beautiful and bright, don't we? I, like most other people, brush my teeth twice a day for the best look and a clean feel. However, it seemed that I have been doing it the wrong way for a while. Isn't it crazy that at 25 I still had to learn that I should especially brush along my gums? I was also surprised that I should use both toothpicks and tooth cleaners on a daily basis. Then there's also the years in which I decided that all of those extra tooth tools were overrated. And if it was a timeline, we would now come to the point where I finally realize that, especially with the amount of candy & snacks that I like to eat, it's important to take good care of my teeth. Instead of just focusing on the appearance of my teeth, I also want for my teeth and gums to be 100% healthy. That's why in the past few years I have been visiting a dental hygienist on a regular basis and no longer take toothpicks for granted. And I feel super lucky to have now laid hands on a product that helps clean my teeth all on it's own. It's the Silk'n TootWave device, which is way more than just a toothbrush.
B is for even Better: The Silk'n ToothWave
A new era in dental care has started with the Silk'n ToothWave electric toothbrush. This is the first with DentalRF™ patented technology. Dental radio frequency waves of charged molecules destabilize the strong bonds that tie discoloration stains and tartar to the tooth's surface leading to their nonabrasive removal. Yup, it may sound complex, but it's actually super easy. With just brushing your teeth you will be able to get rid of tartar and stains and even whiten your teeth. Other electric toothbrushes on the market only remove plaque and cannot get rid of stains and tartar, but ToothWave goes beyond that by doing much more for your dental health. I have tried this toothbrush for 6 weeks now and can totally see the difference.
Reading about the radio frequency waves, I had expected for this toothbrush to make a lot of noise and kinda take me to space in no-time (haha). However, it's a very soft brush that has 3 speed settings. With the DentalRF™ technology doing all the hard work deep cleaning, the firmness of the brush has become irrelevant. So even though I was used to way harder brushes, I feel like my teeth are now much cleaner. In fact, the results achieved with this device differ significantly from before. Especially tartar has been reduced, which makes me feel like I can reach the same results as a dental hygienist from the comfort of my own home, at a fraction of the cost.
What I love most about this electric toothbrush is that it helps me achieve beautiful & healthy teeth in a non-aggressive way. I have been through a lot of pain with my braces and once even had a root canal treatment, so all I want now is for my smile to look amazing and also feel good. Personally, I use the electric toothbrush twice a day. Especially my tartar has been reduced which makes the overall look of my teeth a lot brighter. As you can see from the photos below, my teeth are whiter than before and I receive so many compliments. Of course this is not a license to go and eat lollipops & jawbreakers every evening, but hey, I'm taking care of myself in the best way that I found possible. And that really makes me smile ;-).
Silk'n ToothWave can be bought in several shops like: Silkn.eu, Amazon.co.uk, Boots.com and Currentbody.com.
What are your experiences with dental hygiene? Ever used such a high-tech toothbrush? Or did I make you curious? Hope this article was interesting to you!