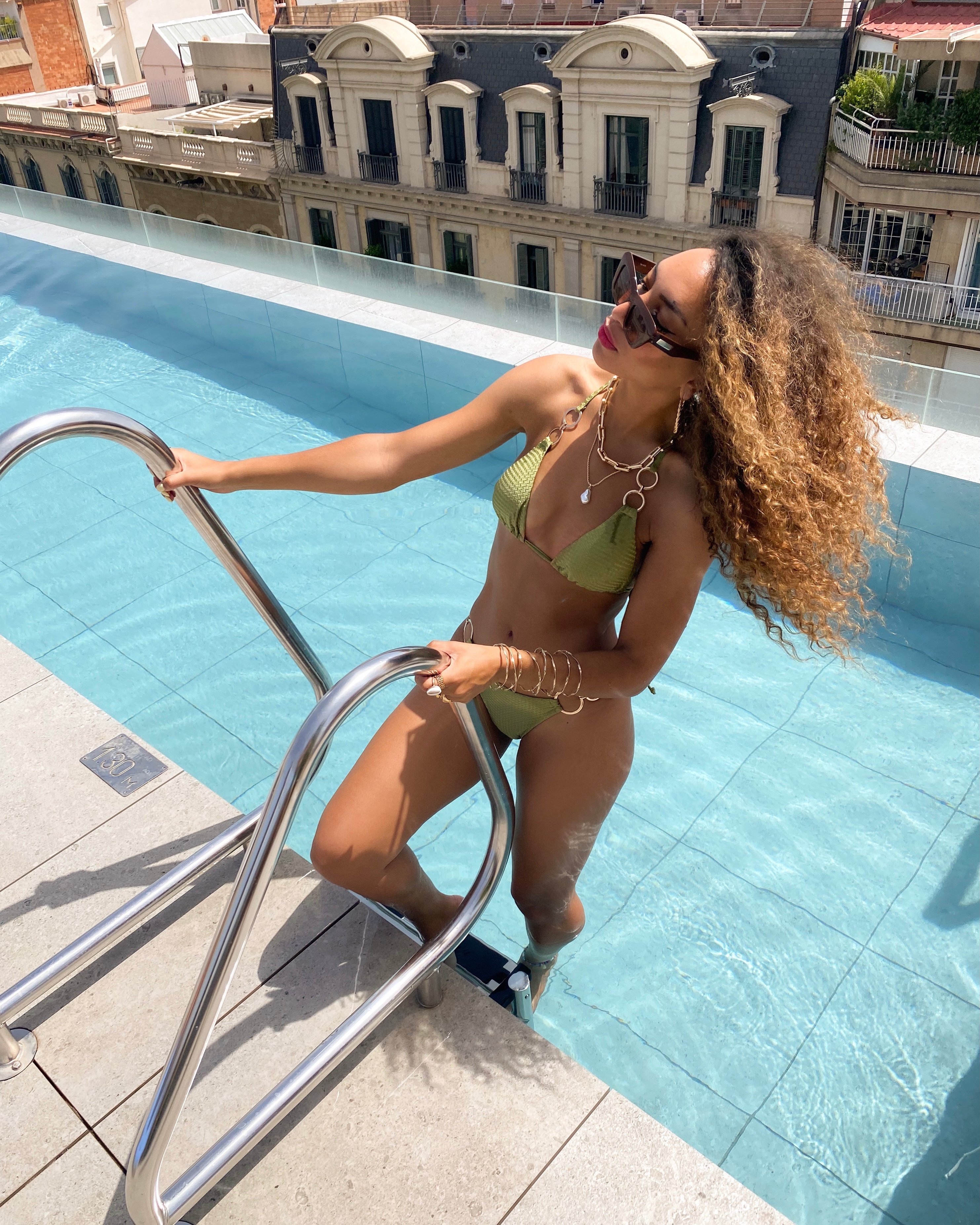 HOTEL REVIEW: OHLA EIXAMPLE, BARCELONA
Barcelona is always a good idea, is what I always say. I even said it last year during lockdown. And so me and my friend went to Barcelona last year and this year too. What I love so much about the city is the fact that it has both city and beach. Fancy a walk down the sand? Or a shopping spree down town? It's all possible. Also, I feel like Barcelona has many beautiful sights to see and hotspots that one cannot miss. Personally, I am always on the look out for rooftop terraces and bars. And I found myself the best ones. Better yet, they're part of an amazing hotel. Let me tell you all about it!
When looking for a hotel in Barcelona, I think it could be quite easy to find something nice, comfortable and inexpensive. But when I look for a hotel, I don't look for "average". Instead, I'd like something that actually adds to my experience. And so I was super thrilled when I found the Ohla hotels in Barcelona. Last year we visited Ohla Barcelona, which has the most beautiful terrace with a nice pool and bar. This year, we actually stayed at another Ohla hotel. This one is called Ohla Eixample, after the neighborhood in which it is situated. Did I make you curious? Here's a full review.
FROM 1 TO 10: HOTEL OHLA EIXAMPLE ON SCALE
Location: 7,5
Even though Eixample is a little further away from the beach, it is quite a bubbly neighborhood which is also safe. Eixample is said to be the hippest district of Barcelona, which you can tell from all high-end and trendy shops that have found their place there. Not too far from the hotel you will find some of Gaudi's masterpieces and furthermore this location is perfect for shopping.
Room: 8
We stayed in a Junior Suite which was super spacious and had everything we could wish for. Think of a huge shower, a bath tub and a humongous bathroom zink. Oh, and the most important part: the bed. Also huge! And how I loved the big pillows. We had such a good night of sleep that we actually extended our stay.
Ambiance: 8
The ambiance of the hotel can be picked up immediately from entering the lobby: pleasant and full of good service, but we'll get to that later. I love how this hotel would be perfect for business men but also for people seeking pleasure during their holidays. The decor is quite modern but with a touch of fun every here and there.
Food & drinks: 8
I mean, there was an option of having Bellini's with your breakfast (champagne + jus d'orange). How epic! And the breakfast itself was good too. Same goes for the bottle of wine that we were served in the room. Gotta love it!
Service: 9
The service was perfect. I feel like every employee took our wishes very seriously, were super kind and helped where ever they could. Now with covid, it was kind of a hurdle to get a test planned, but the staff made sure that everything was taken care off. Oh how I love when a hotel makes sure that everything is accounted for.
Facillities: 8,5
Ohla Eixample has everything you could wish for. Not just a pool, not just an outdoor pool, but an outdoor pool on a rooftop! Yeah! What a nice swim we had. And even to chill up there in the sun was such a blast! They serve food and drinks around the pool and there's a small terrace there as well for anyone who has an appetite after their swim.
Recommendation rate: 9
I would definitely go back to this hotel. Like I mentioned, we extended our stay. The neighborhood, the sweet service, the room, the swimming pool. It made it all into a perfect stay. I do wanna add that I love Ohla Barcelona (the other Ohla hotel) too. Personally, I think that Ohla Barcelona is perfect to visit even if just for a snack around the pool. And Ohla Eixample makes for a perfect fun stay.
Location:
Ohla Eixample
Carrer de Còrsega, 289
08008 Barcelona
Spanje
More information about the hotel can be found here
More information about Ohla Barcelona here