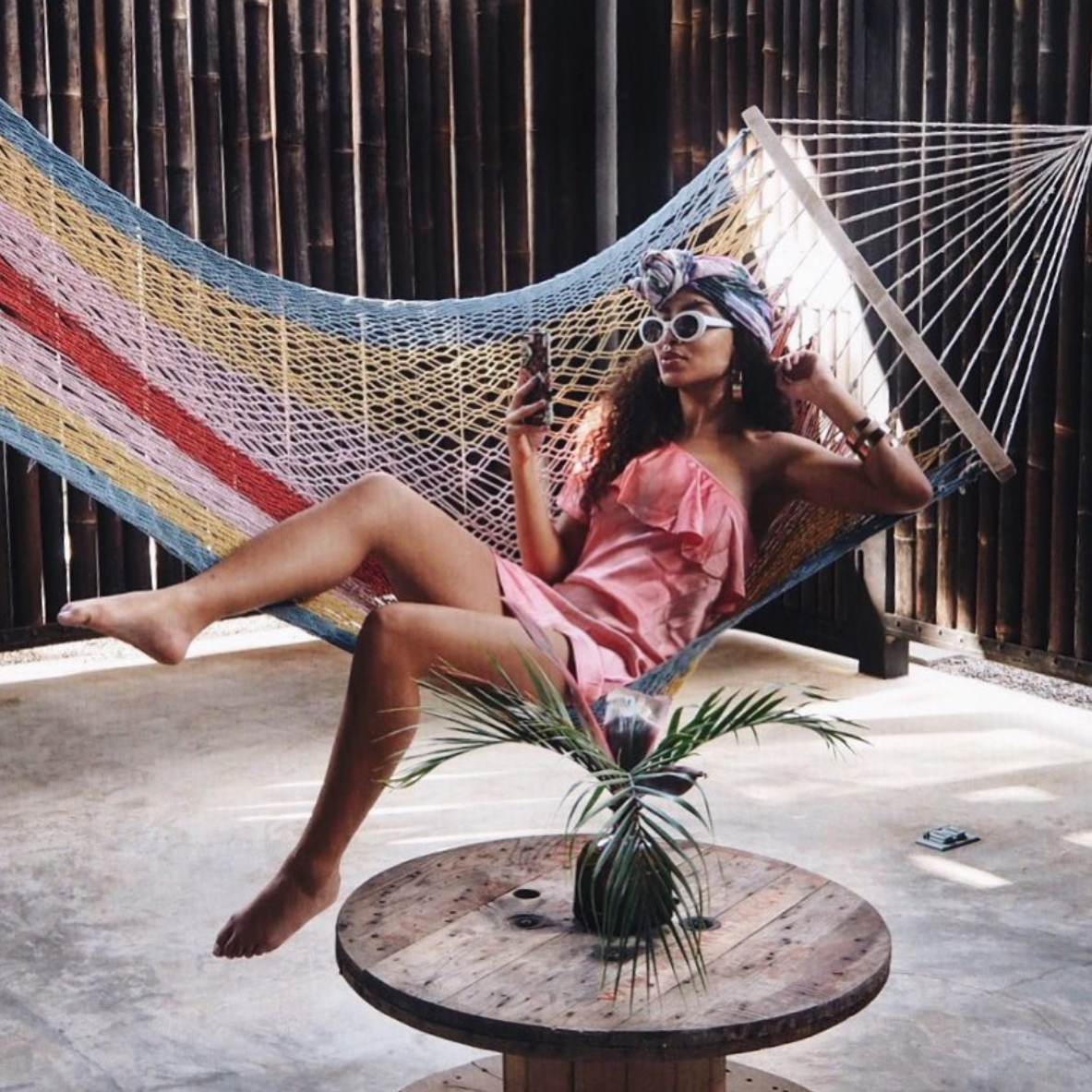 HOTEL REVIEW: LA NEGRA, NOSARA
It's been a few months since I went to Costa Rica and you guys may already have seen a lot of photos on my instagram account or watched the videos on my youtube channel, but right here and now I would like to take you with me on the journey again, specifically let's get into my route and the hotels that I chose to stay in. I started in Nosara, a quiet yoga & surf town where I found a laid-back hotel that turned out to be the perfect start of a lovely trip…
When I booked my tickets for Costa Rica I had no idea where exactly I would be going. I was kind of last minute, I only booked about 3 weeks before but somehow I just believed that everything would fall into place. "Pure vida" as they call it in Costa Rica would lead me to the right places & the right people at the right time is what I believed. And that is exactly what happend. After I touched down in San Jose, the capital city of Costa Rica, I took off to Nosara, which is located in the Guanacaste Area alongside the pacific coast. Here I had a collab with La Negra Surf Hotel & Soda, a hotel with 5 rooms, more like small apartments, ran by a cool American guy. This hotel instantly made me feel at home and the vibes in and around the area were absolutely amazing. Tranquilo! It was perfect. Let me tell you all about my experience in this hotel in more detail below.
FROM 1 TO 10. LA NEGRA ON SCALE
Location: 9
Hotel La Negra is situated just a 1 minute walk from the beach. You simply go through a small bush and you can already hear the relaxing sound of the ocean. The city center is a bit further, but for me that was perfect as I wanted to enjoy the peace and quiet of the beach. Food & restaurants can be found at just a 5 minute walk, and besides the hotel serves great food and beverages at the soda bar as well so the city center isn't something you'd miss here.
Room: 8
La Negra has several rooms which are all different, so one may be better than the other. Mine I can tell was great. There was enough space in the room itself; the bathroom was fine too. And I loved loved loved the patio with the small couch, the minibar and the hammock! Although this part was roofed you could still feel a sweet breeze here and there and enjoy the sounds & vibes of the nature around you.
Food & drinks: 8,5
I love the fact that La Negra has a bar/restaurant where one can order from a (very good) menu and enjoy some typical Costa Rican gallo pinto at the terrace next to the pool.
Service: 8,5
I was only in the hotel for 2 nights, and on the last one La Negra hosted a party which is why I feel like the owner of the hotel and I kind of became friends so my opinion may be colored here. But I reckon that he would adjust to the needs & vibe of any guests in a personal way which I think is very nice. I also loved the bar personnel and the fact that everyone is open, speaks English and are down to earth. I will also add here that the hotel hosts yoga classes daily. I attended one which was again very personal, not too many people, and it was held in a great environment. But for those who are more the surfer type: surf classes can also be booked via the hotel and take place basically next to the hotel, very convenient.
Recommendation rate: 9,5
I haven't seen many of the hotels that are located in Nosara, but I am going to recommend this one for the following reasons: it will give you the ultimate relaxed vacation including any yoga or surf activities all in one place. It's chill, personal, laid-back and (from what I heard from others whom I met there) one of the best hotels in the area. Already found something else, but fancy a drink? Definitely stop by for a smoothie or lunch before you head to the beach!
La Negra Surf Hotel & Soda
400 metros oeste del Hotel Giardino Tropicale
Playa Guiones, Nosara
Guanacaste 50206 Costa Rica
More information about the hotel can be found here