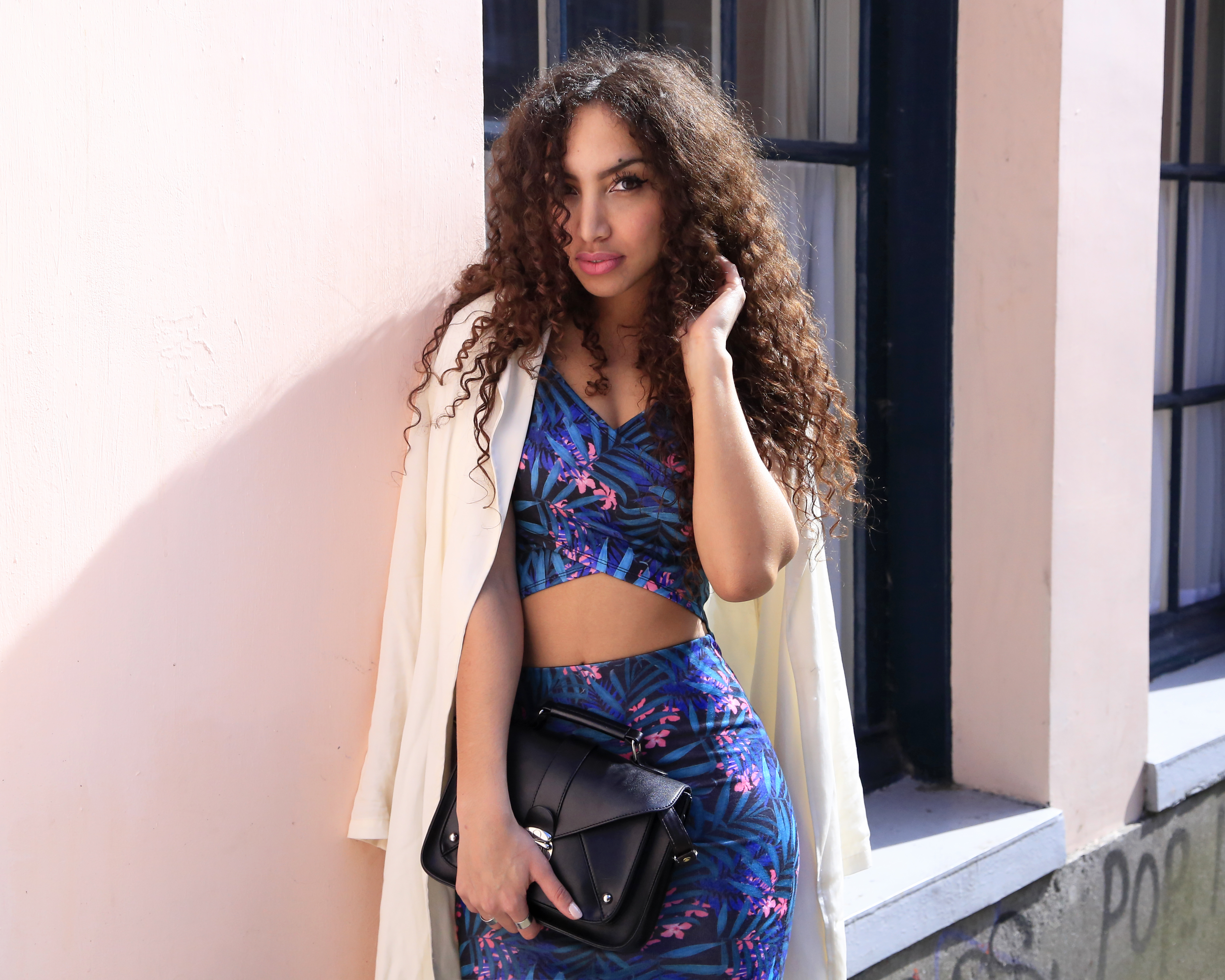 While writing this blogpost, I am listening to Rihanna, Magic! and Meghan Trainor bringing a reggae summerish vibe into my room. And looking at these pictures, I'm getting even more in the mood for summer. The combination of this cute pink house and my tropical printed co-ord really does the trick, even though it's not sunny at the moment.
It seems like every summer I have this few trends which I totally fall in love with. Last year, for example, I had a crush on crop tops, maxi cardigans and basically anything white. This summer I have fallen for pastels, especially lilac (I have written several articles about this already). Another big love of mine this summer will be the 2-piece sets, consisting of a crop top and a matching bottom like a skirt or shorts.
When I heard about the mix and match collection of CoolCat I got really excited, cause this collection not only provides with lovely two pieces in striped and tropical prints, but also gives the opportunity to mix prints or match basic tops to printed skirts. So this is a fun way to play with styles and create a different look with only a few pieces.
My favorite from this collection is the 2-piece that I am wearing in this post. It's made of a soft body hugging fabric and the print is simply exquisite. Whilst the color is dark and sophisticated it still looks playful and cheery thanks to the palm tree print and pink flowers. I love that the top is asymmetric and the midi skirt has the perfect length. I chose to team this 2-piece with silver strappy heels and a beige maxi coat to complete the elegant and feminine allure that is coming from this ensemble.
Let me know what you think about 2-piece sets! Did you find some lovely ones as well? More sets like mine can be found from €39,95 in the CoolCat stores and in the webshop. Curious about your thoughts!
Wearing: CoolCat 2-piece set* / H&M maxi coat / Missguided heels* / New Yorker bag*
All items with * were gifted to me
Photos by Mohamed Dahman