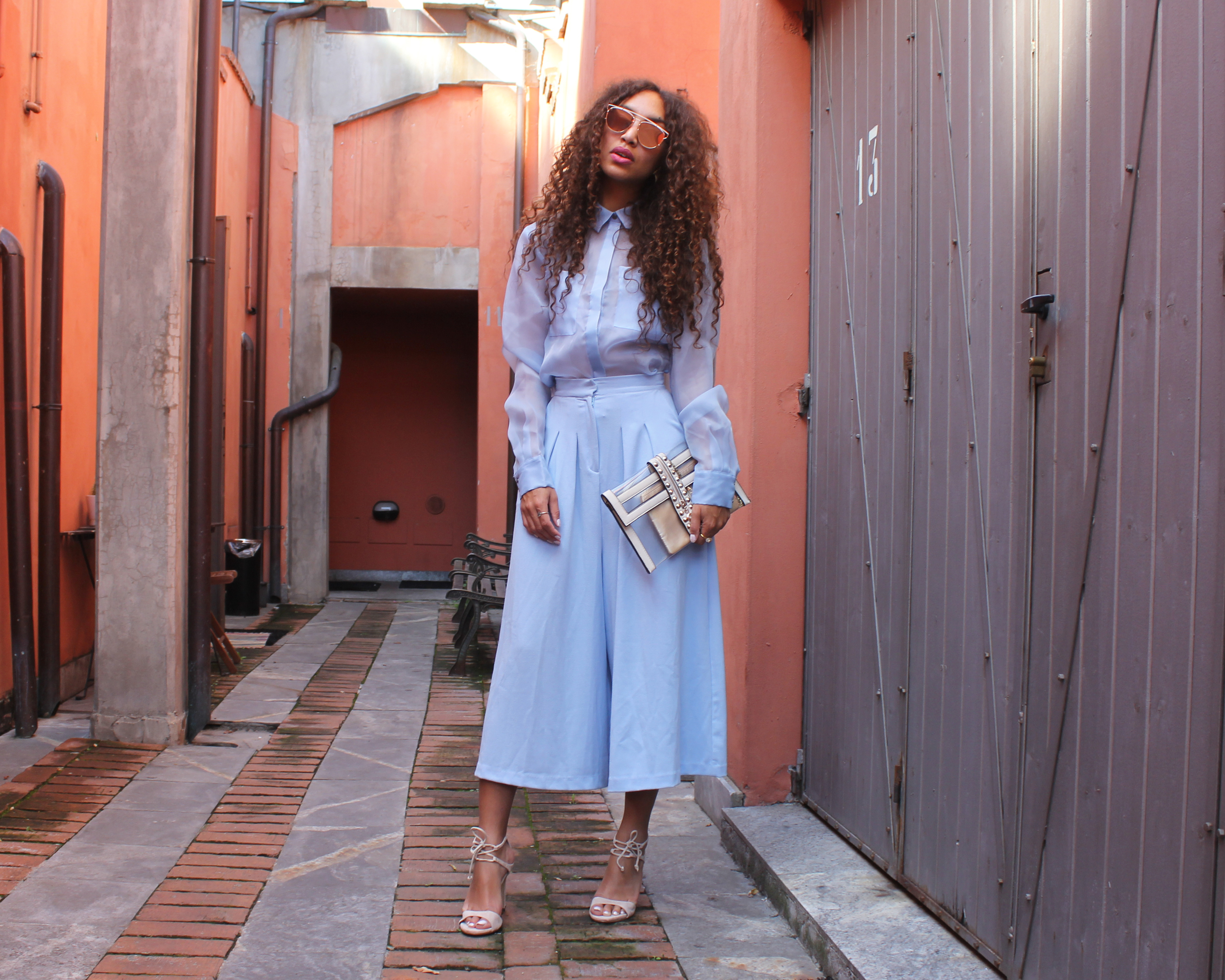 MILAN FASHION WEEK OUTFIT: ELEGANT & MODERN
For my first day in Milan, during which I was visiting Milan Fashion Week, I wanted to wear something that is both elegant and modern. So when I laid eyes on this cute TTYA combo of a see through blouse and culotte in baby blue I was sold!
I know "TTYA" sounds like something Paris Hilton would say, but this right here is really worth here "that's hot". TTYA is short for Taller Than Your Average, the brand of which I am wearing this adorable set in this post. Now, what I love about the brand is that it's made for tall people and although most tall people would opt for clothes that would make them look less tall, TTYA knows just how to translate the trendy items that would normally make you look taller into something that is wearable for someone tall and at the same time doesn't make them shrink.
Now, I am gonna be honest. With my 5'6 I am not that tall. To most people I am, but to TTYA I am not. So this ensemble is somewhat too big for me. But I must say that I still like it. This just had to be my Milan Fashion Week Outfit.
I chose to match the baby blue to the color that I think is most suitable: beige. Or should I say nude? I found these beautiful heels at Steve Madden's. I was in doubt for a while about whether to take the black or beige ones, but since I found other black heels at Steve Madden, I decided that I'd better go with another color, so beige it was.
You must have noticed that I am a huge fan of strappy heels and lace up shoes, so finding both of these elements in just one pair of heels had me happy! I took the heels with me on the trip to Italy and France because I knew that they would not only look good with this baby blue outfit, but with practically anything.
What do you think?
Wearing: Taller Than Your Average blouse / Taller Than Your Average culotte / Steve Madden heels / Deezee clutch / Zero Vintage sunnies / Isles Jewelry rings
[show_shopthepost_widget id="1139440″]
Photos by Reinder