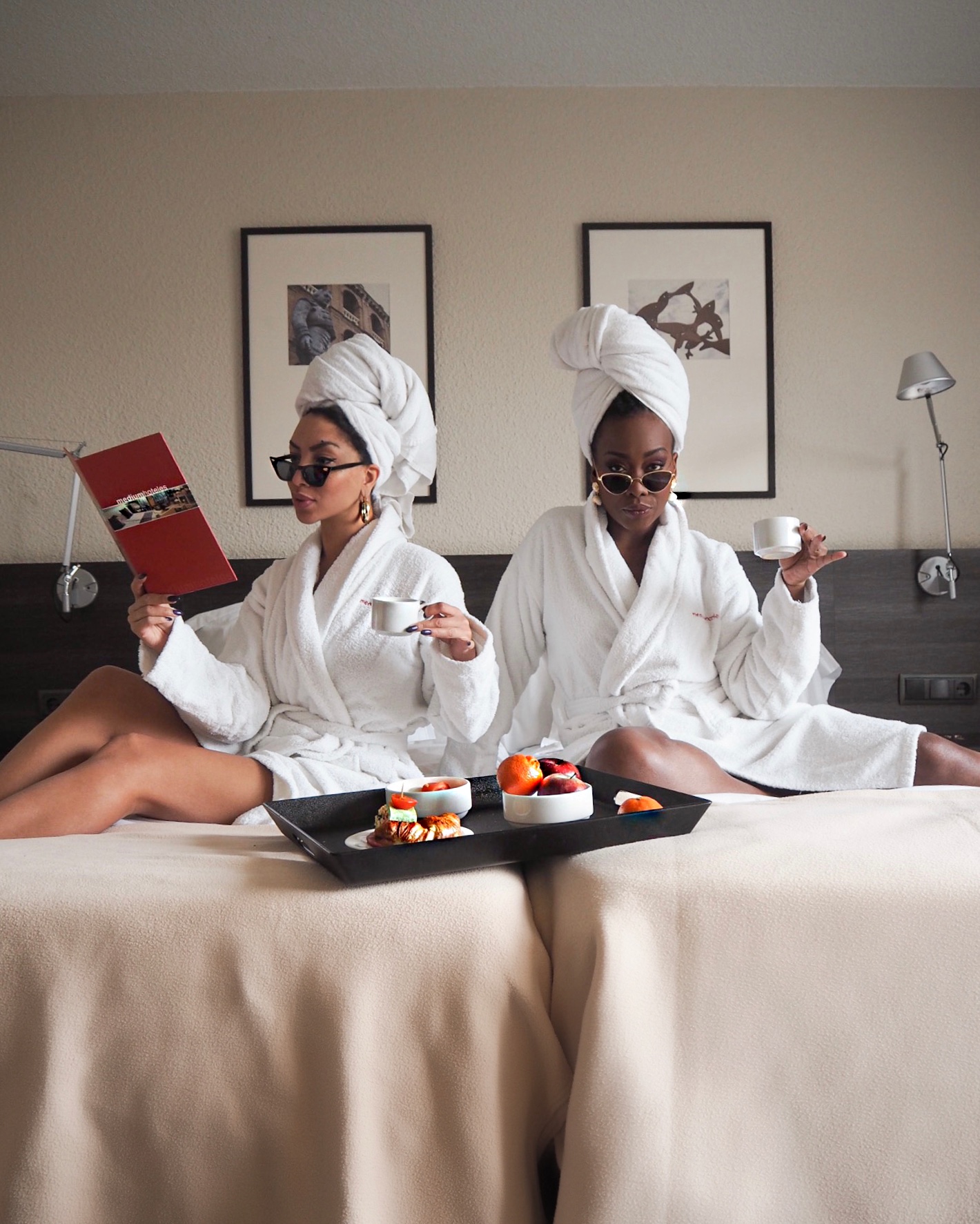 HOTEL REVIEW: MEDIUM HOTEL, VALENCIA
A city trip to Spain for me often means Barcelona. In fact, I just came from there. It's an easy go to destination from Amsterdam and it has everything you want: city & beach. However, this time I was looking for something else, something new. A place like Barcelona: picturesque and authentic, but smaller and still with beautiful must see places. Valencia it was! I'm actually surprised that I haven't gone there before. So what to do in Valencia and where to stay? I am telling you all about it in this post.
We visited Valencia in January; it was low season and temperatures were not as high as usual, but we definitely had a blast. Sweets & cakes from Dulce de Leches, dinner at A Huevo, strolling down the city centre, many amazing clubs and lots of eye candy for those who love sightseeing. Places on my list were Cabañal, Palacio del Marqués de Dos Aguas and Torres de Serranos. But of course, also the holy grail!
So yes, outside there's lots to do. Inside, of course, depends completely on where you stay. I chose Medium Hotel because it's in a nice neighborhood and they are meant to have good service. Spoiler: There was a "code alerta" storm going on when we were there, so we were meant to stay inside at least one of the days. And I can tell you: we enjoyed ourselves pretty well! Let's look at the hotel in detail…
FROM 1 TO 10: HOTEL MEDIUM ON SCALE
Location: 7,5
The location is a 20 minute taxi drive from the airport and is situated south east from the city centre. It's a nice neighborhood that has a lot of what you might need: a big supermarket and a bus stop are at walking distance.
Room: 7,5
The room we had was spacious and lovely. I was happy with the mini bar and loved the view from the balcony. I am sure that during summer the view will be even more beautiful and bright. I loved taking a hot bath during my stay and must say that the room just had everything we could wish for. Personally I am a huge fan of room service, so I regret not having a taste of what my sister had as I was on a keto diet.
Ambiance: 8
When stepping into the hotel, one will be greeted by bright colors coming from the impressive cabinet in the lobby. It's a huge space with high ceilings and a lot of lights. I very much loved the beautiful interior with it's eclectic decorations. A lot of the hotel emanates a luxurious vibe which I can only appreciate.
Food & drinks: 8,5
Breakfast is very important to me, so when I saw what this hotel offered for breakfast I got very happy. Fruits, cakes, breads, croissants, dairy: It was all there, laid out attractively. I kept it healthy and love that there was so much choice. According to my sister the room service was also good. She enjoyed her food very much. I remember she said it wasn't enough, but I bet it just tasted like "moooore".
Service: 9
I was saying how breakfast and ambiance are important to me, but the most important is the service. Well, Medium Hotel scores high on this! Every time we entered the hotel, we were greeted and welcomed very kindly and all of our questions were always answered with such a sweet smile and lovely small talk. Tips & directions were also given by the staff and I felt like they were always checking to see if we needed something and whether we were ok. Love that! Especially for a big hotel like this one, I am happy to see that they take the time to make sure that guests are alright.
Facillities: 8
The hotel definitely had everything we needed (and more). I feel sorry for the fact that we were there during the winter, cause I would have loved taking a dive into the swimming pool. It's also possible to rent a bike, and the hotel is quite complete when it comes down to facilities: fitness rooms, meeting rooms. It has it all.
Recommendation rate: 8
I would definitely recommend staying at Medium Hotel. It was a perfect stay of 4 nights, complete with everything we needed and super kind service. Pssst… Medium Hotel is not only situated in Valencia, but in Barcelona and Sitges too! Should you pay them a visit there, do let me know what you think of it.
Location:
Avinguda d'Amado Granell Mesado, 48
46013 València
Valencia, Spanje
More information about the hotel can be found here