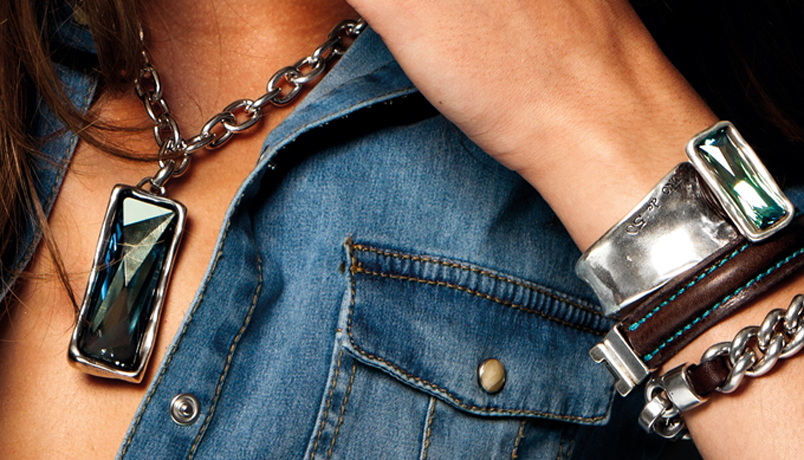 This month's love goes out to…
…Extravagantly shaped crystal jewelry! A nice outfit asks for nice jewelry. Better yet, a good set of jewelry can make your outfit stand out. A statement necklace or a cute bracelet for example, can really complete your look. Ever since the beginning of my blog I've put an emphasis on jewelry. That's why I am now taking the time to spread a little love over some amazing pieces I came across recently, all with one theme: big crystals that are either elegant & bold or come in the shape of something extraordinary like skulls.
Last week I attended a lot of press days, which is a good thing to do since I meet the PR teams and get to know a lot of new brands. Besides, I get an update of current and upcoming collections. Amongst others, I went to Mooi PR where the new collection of Swarovski was being showcased. Now, we may all know Swarovski from the cute crystal jewelry pieces. But I must say that ever since their Nirvana collection they kept surprising me with bolder jewelry pieces. In the very near future their collection in collaboration with Jean Paul Gaulthier will come out with some very striking pieces, exactly the way I like it.
Being inspired by all this, I could only be thrilled coming across fashion jewelry from Uno de 50. This brand owes it's name to the fact that they once started their brand producing only 50 pieces from one kind. Nowadays they've grown to a bigger production, but with every collection they also launch a limited edition series. They sometimes use Swarovski crystals in their jewelry pieces and how original they are!
I have especially fallen for this unique style bracelet which consists of a gold plated bangle and a smoky grey skull shaped swarovski crystal (see image below). They also sell a ring like this and I'm just gonna admit that both really took my breath.
I think that it's fun to see how modern jewelry pieces which are hand-crafted can give off so much energy. When pieces are silver or gold-plated they are durable and the different shades in just one crystal makes jewelry pieces like this go with almost every outfit, which makes them the ideal long lasting and timeless investment to make when it comes to jewelry.I will definitely be on the look out for more pieces like these. I've listed some from Uno de 50 for you guys to check out. Let me know what you think of this on-going trend!
All items and photos via Uno de 50