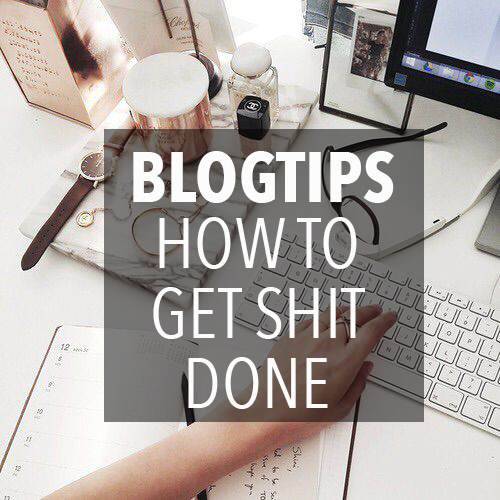 BLOGTIPS: 5 TIPS TO GET SHIT DONE
It's hilarious that I am writing this post right now, cause while writing I can only think of the list of things I have to do before my vacation. I am leaving in three days and have to schedule all of my blog posts beforehand. OOPS. How to do that? I'll tell you how to get shit done…
1. TO-DO list by importance
To-do lists are a common thing. Is it evenly common that to-do list never seem to be fully checked? As a psychologist I used to make to-do lists with my clients a lot. There are a few important things when it comes to to-dolists. 1. do not punish yourself when you don't get to check the full list, maybe your list was simply too long and 2. you do have to do something and start somewhere. I think it's best to start with the things that are most important of the things that I really don't feel like doing, because once I've checked them off, I feel better already and will have more energy for the rest of my list.
2. Schedule
Make a schedule of your deadlines. You could use your agenda or make a schedule yourself. Always give yourself a deadline for things that should be done. Important: your deadline should be realistic!
3. Work in bulk
Try to do as much of the same thing at once. For example: photograph 5 outfits on one day. This will get your mind off of shooting looks and you'll have more time for all the other things on your list. This way blogging will affect your daily life a little less and moreover, you will be at your best when shooting, cause once you have that modelish vibe going on, you don't have to stop: go on, three more!
4. Turn off distractions
TV-off, music-off, window-closed. When you really try to concentrate, leave the rest of the world outside of your bubble and just work it, girl.
5. Separate work from pleasure
I have recently used this one myself a lot. In fact, this was one of my new year's resolutions. And I must say it really works to split work time and rest time, as long as these are balanced. Ofcourse they don't have to be equally divided, but try to only work when you work and relax when you relax! Oh, how I love me some time off with nothing but Desperate Housewives. In line with that, reward yourself! The theory of Pavlov about classical conditioning is no secret, nor an illusion.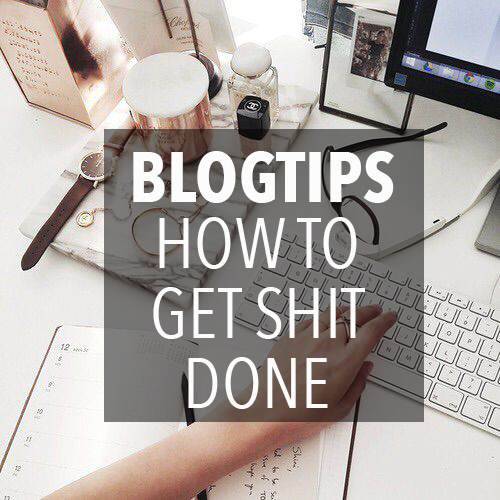 I hope this helps you out! If you need any advice or tips on other matters, let me know, so I can write about that too in my next blogtips post!
Photo via Pinterest.com