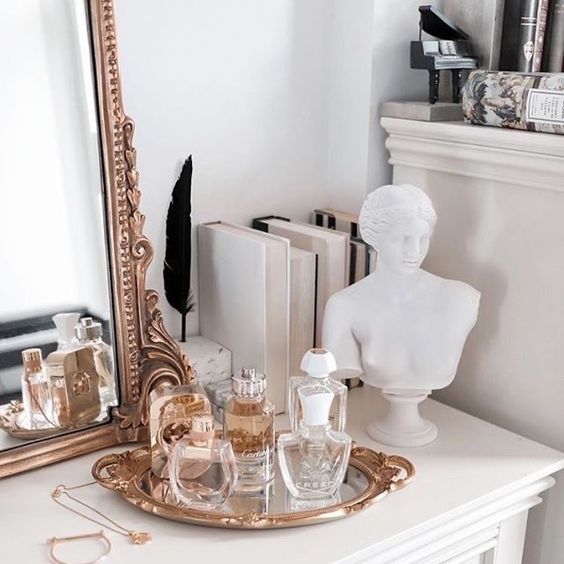 Another week (or month) staying inside… And without fomo (fear of missing out)! Cause nothing fun is happening anyways. So it's the perfect time to work on yourself and I prefer doing that in two ways. The first is by pampering myself; I like to indulge myself in masks and beauty products. It gives me a good excuse to go shopping online. Second, I like cleaning out. Cause after all, the old will have to make way for the new. By throwing out old stuff, I feel like I have an even better excuse to go shopping for something new. So next on my list of cleaning out and new shoppings? My beauty stash!
Besides fashion, beauty is one of the main things I like to spend my money on. Better yet, when I feel like I have enough new clothes for the month, I would have an eye wandering for beauty stuff cause that's something I can never get enough of. While writing this post, I find myself scrolling through the goodies on Douglas.nl to see what's new. Is there something missing on my vanity table? Anything I need for my skin or lips? My hair maybe? Oh.. or another fragrance? The answer is always yes…
A few weeks ago I had this conversation about fragrances with friends, and one friend told me that she barely wears perfume. I was in shock. "I even wear perfume when I am at home alone and butt naked," I said, "It's a treat to my nose and I feel so fresh and ready for the day when I wear perfume." Other friends seemed to agree with me and we spoke about our favourite perfumes for a while. I love how we, women, can speak about something like that for hours. Just as I cannot get enough of talking about it, I cannot get enough of spraying perfume. Hence, my perfumes tend to go fast and here I go; I need a new one!
Now, what I love so much about perfumes is not just the scent. I also love the way perfume bottles look. Some are simple and clean, others are quite special pieces of art. Either way, they tend to go so well with interior styling. All you need is a nice platter (think of marble or glass), a mirror, a roman sculpture, some books and some candles. Now add your favorite perfumes to it and voila: you just made the perfect instagrammable setting.
I often shop my favourite fragrances at Douglas as that is my go-to shop when it comes to beauty products. They've got all the scents that I love, from Miss Dior to Lancôme's La Vie est Belle and from Jean Paul Gaultier's Scandal to Versace's Bright Crystal. All of these come in a beautiful bottle; great for decoration!
Next when it comes to pampering: the masks. My favourites are the Origins Drink Up Mask, the StarSkin Gold mask and Glam Glow's SuperMud Mask. The last one is especially nice since it goes such a long way. I tend to use up a lot of it and really let it soak. Coming out of a spa morning with just me, myself and I, I always feel like I can conquer the world. Then I realise that there's nowhere to go and so I clean out my masks as well. What's left? A beautiful golden box full of my favourites, there on a platter next to my Chanel & Vogue books. Easy on the eye; easy does it.
So that's how I get through the perfect sunday: enjoying a mask on my face while cleaning out my beauty stash and decorating the house. While we're staying in, we may as well make the most of it. Right? How are you holding up?