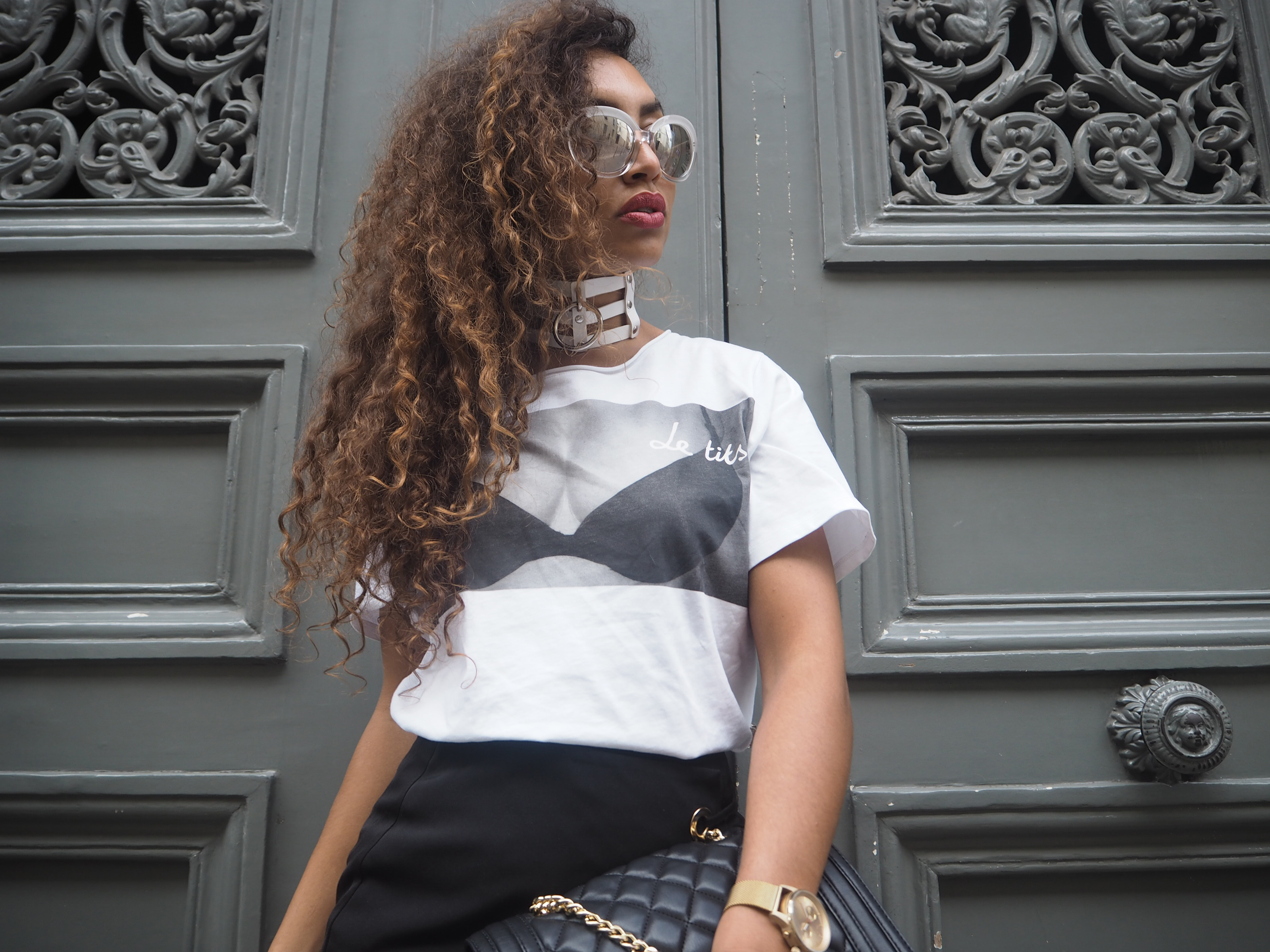 Oh how I love this T-shirt. I don't really wanna write anything else in this article. Maybe I should write it down as if I got punished at school. "How I love this T-shirt. How I love this T-shirt. How I love this T-shirt." But no. That wouldn't do my SEO any good, so let's dig into the details of this outfit.
I wore this look during Paris Fashion Week, which by the way, was totally amazing! I have recently uploaded a vlog about Paris Fashion Week to my youtube channel so make sure you check that one. I really had such a blast and it's even more fun to look back on it by watching my own vlog.
Now back to this outfit… I borrowed this T-shirt at a PR agency and just knew that I had to wear it to Paris Fashion Week, if only for the fact that it says "le tits". Although it's not spelled correctly (should've been "les tits", plural dude, I've got two of them!) I love the text and the image. It's such a statement piece, yet it's super simple. Cause it's just a T-shirt…
I chose to wear it with an A-line skirt, which I loved back then but when I look back on it (now 3 weeks later) I don't really understand the outfit anymore. That's how fast my style evolves haha. Right now I am like nah, could've gone with something a bit chiquer. But hey, love the black and white!
On top of all this I am wearing an amazing customized jacket and of course, some sunglasses. Major musthave during fashion week to cover up the tired eyes from afterparties.
Let me know what you guys think!
Wearing: Wonderlust T-shirt / New Look skirt / Public Desire heels / Liu Jo sunglasses / Black Label Amsterdam jacket