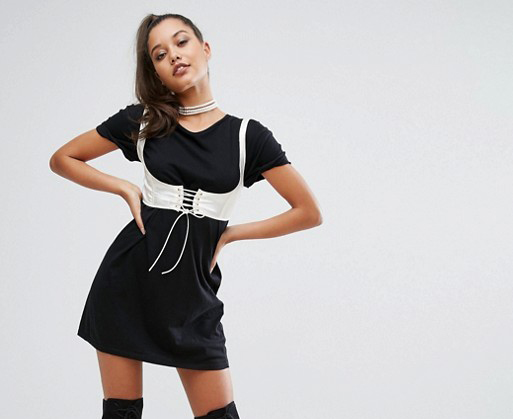 THIS MONTH'S LOVE GOES OUT TO…
…the corset belt! OMG. How I love this item? It started with the cropped cami tops, but I think that the corset is a perfect addition to this "clothes and accessory layering" trend.
From my intro you can tell that I am not sure whether I should see this corset thingy as a garment or an accessory. Although it is worn like a belt, it definitely has way more to it than any simple accessory would have. And I personally love that very much!
I wonder where this trend started as it feels so natural to me. Some statement trends, like the flare pants for example, come and have me paralyzed for a while, not sure whether I should go with it or not. And then, when I see it more often I start to like it and where it like I have nothing else in my closet. But with this trend it's different: I loved it every since I spotted it. In fact, it feels like I could've invented it myself.
I love how there are so many variations to it, none of them being like the corset we used to know from back in the day. Instead of being sexy in a pin-up kinda way, it looks super tough and sassy. GRRR.
I've selected some of my favorites for you guys. Are you into this trend as well? And which of the below ones is your favorite? Images are clickable!

[show_shopthepost_widget id="2489635″]