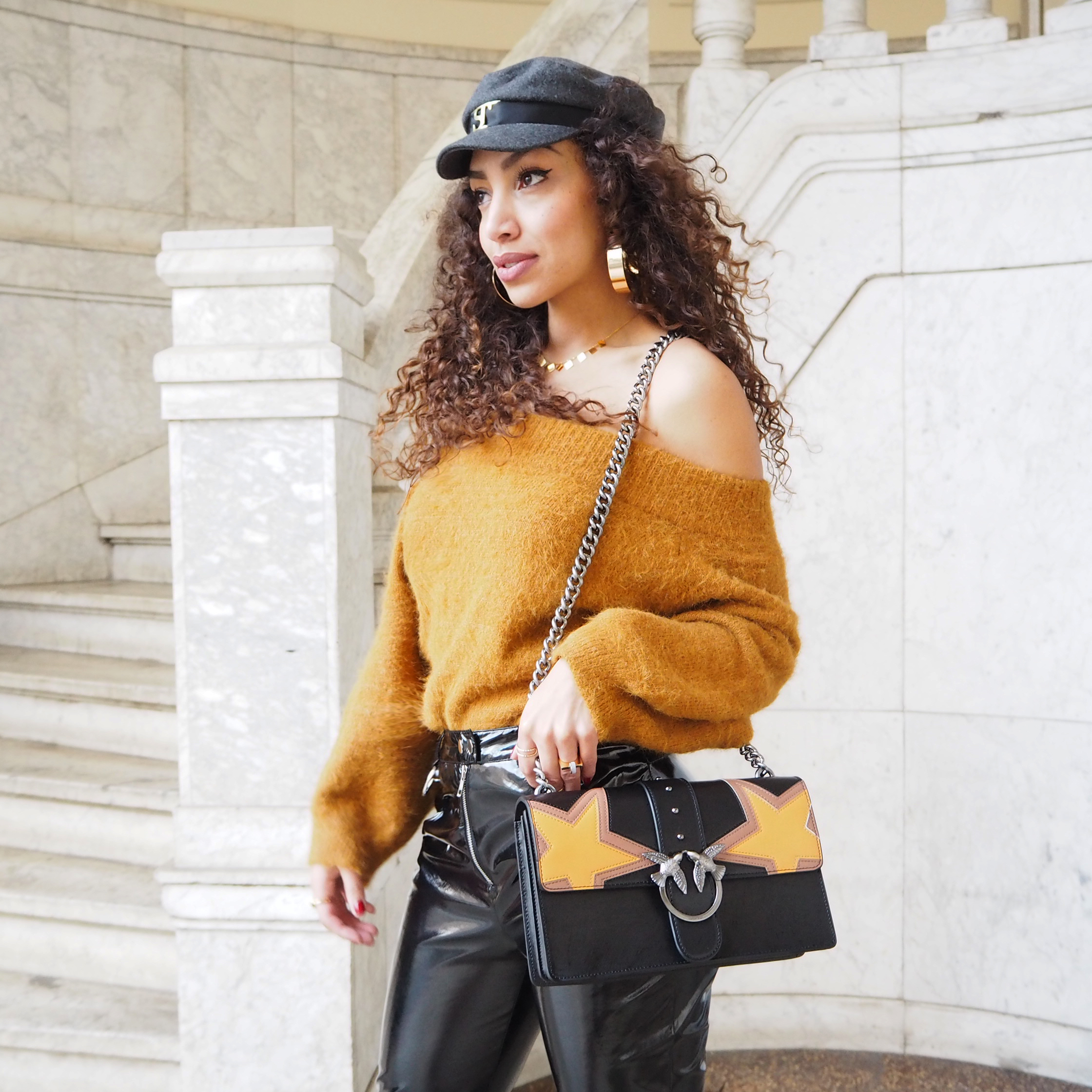 What do you think of when you finish an outfit? Jewelry? Shoes? Hats and caps? For me the ultimate way to top off a look is by choosing the right bag. Lately I have specifically been into the high-end musthave type of bags, mainly designer bags. So what's on the hotlist at the moment? I guess you already saw it in the photo above as it is such eye candy: my new baby from Pinko. Let me fill you in on all the details…
For this article Duifhuizen offered me to choose a bag from their amazing collection of bags & trolleys. Thanks and kudos to them for giving me such a headstart into writing this inspiring article and going into 2018 fashionable and happy. Now let's get into the material…
Definition of an it-bag
To me an it-bag is the type of bag that e-ve-ry girl needs, wants and has – on instagram that is. It's the type of bag that catches the eye and the image of it doesn't leave your mind until you own it. Although style is personal, the it-bag is generally known as a musthave. An encounter with the it-bag of the moment is almost like finding your soulmate. Whether you spot it on social media or in real life, when you meet the it-bag you know it's the it-bag. There is no turning back around and all you can do is fall for it. Brands and designers are smart enough to make it in all kinds of colors and designs so you'll be able to find one that really matches you and your style. And heck, you'd also buy it if there was only one color. Twinning is life these days!
Today's it-bag
Now, these days there are several it-bags. Several bags you might wanna have, need or even crave. But I will just focus on my favorite for this article: The Pinko bag, representing the cute birds in a round buckle and often adorned by studs, floral prints or something else fun. I found this one with stars and fell for it right away. How I love it when a bag has more than just one color so it adds a bit more flavor to my outfit. And the stars, I mean, so 2018! But to be honest, I kind of had a hard time choosing the exact bag as all of these bags seemed so cool to me. I am nothing like a rock chick but even the ones with "Love me tender" slogan caught my attention! Like I stated, I found this new love of mine on Duifhuizen a webshop that sells not only Pinko, but also a lot of other brands, or so to say it-bags (to be), backpacks ánd trolleys. Their collection of bags is huge and super diverse. So quite frankly, it's only a matter of months until I'll be back on site to keep an eye out for the next (it-)bag. Still, this Pinko bag is not just for today. There will come a lot of tomorrows before I'll get bored of this one.
How to style it?
First of all, an it-bag doesn't need much styling. You can easily throw it on a faux fur blanket, make an instagram photo and receive loads of likes and comments. Likewise you could wear a sports look and spice up the complete ensemble simply by adding your it-bag. But okay. My Pinko baby deserves better. I like to wear it with leather, knits, patent and basically anything sassy. The bag in itself is very striking and basics like jeans or cotton tees would look great with it already, but I am sure that my bag will come to full effect during summer festivals. I see crop tops, cut off shorts, chunky boots and some cool cap. How I cannot wait to take this bag into the next season. But for now, I will be rocking it this way. I've only had this bag for a few days now but received so many compliments already!
Super curious to hear your thoughts about it.
Wearing: Topshop pants / Duifhuizen.nl bag / Supertrash cap
In association with Duifhuizen.nl